That's right. Indianapolis Colts fans prove again how truly stupid they are by
booing a Punt, Pass, & Kick participant because SHE was wearing a Patriot jersey
. That would be like me booing someone at a Cubs game because they were wearing a Braves jersey. I understand Colt fans still have a chip on their shoulder because everyone talks about how the Patriots have a dynasty and.....well......no one talks at all about the Colts. This is for two reasons: 1) Over the past 10 years the Patriots have been to multiple and won multiple Super Bowls while the Colts have been to one and lucked that the opposing QB couldn't hold onto the ball in one. 2) Because Boston is a huge east coast sports town and Indianapolis is a sleepy midwestern town with terrible fans. The truth hurts.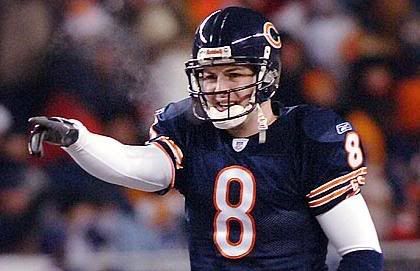 Yeah we know you dropped the ball over there Rex.
Well it is official. The Idiots have tickets ordered for damn near every Spring Training game except the Cubs Sox game at Mesa. Thanks to all the asshole ticket brokers who bought the tickets and are now selling them on Ebay for
rediculous prices
. Good luck getting $100 a ticket for a Spring Training game. I will be more than happy to steal these tickets back 4 days before the game when you have no buyers.
I don't feel like addressing the fact that the Packers are probably going to the Super Bowl. I am keeping my fingers crossed in hopes that the
Cubs will land Roberts and Bedard from the Orioles
. What does it matter anyway? It might actually be fun to watch him get embarassed by the best QB of my generation. Let's just see what happens this weekend. Oh, and GFY GB.
Share on
Facebook.
Follow us on
Twitter.