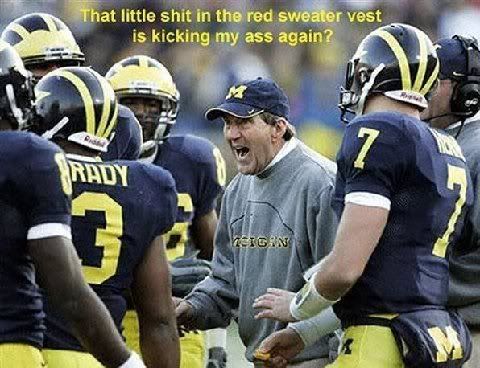 Well I got a chance to watch some college football today. Oregon is out of the national title race and it appears the Sooners are also. So Kansas, Missouri, and West Virginia will be ahead of Ohio State for 2nd in the BCS standings. Does anyone really think these teams will be able to hold on the way teams have been going down? I think Ohio State will get another chance to embarass themselves in the Championship game this season and the Wolverines might back into the Rose Bowl where they will get plowed by whoever the Pac-10 offers up. Boy did Henne look terrible today. He played with a shoulder injury that basically gave his team no chance to move the ball. Mallett came in for a drive when Henne had to step out and the Michigan offense seemed to respond. Kudos to Carr for putting an ineffective Henne back in and losing again the OSU 14-3.

My Boilers managed to lose to the asshole Hoosiers today in Bloomington in typical fashion. They spotted an inferior opponent a big lead and managed to tie them only to lose on a last second FG. Bravo jerks! We wasted a good season by Bryant and I am hoping Painter won't be the starting QB next season. They guy just can't win a big game on the road.
Share on Facebook. Follow us on Twitter.